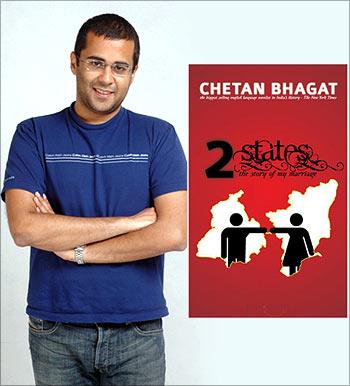 Chetan Bhagat, author of Two states: the story of my marriage
Printed and published in 2009, Two states: The story of my marriage, written by acclaimed international best-selling author of Five Point Someone, Chetan Bhagat.
Two States is considered to be the real life account of the author and his wife. This book is an elaborate tale of how two IIMA students both belonging to different parts and cultures of India fall in love with each other and despite the cultural differences intend to get married.
The plot is divided into 5 acts. The book begins in Ahmedabad where the protagonist Krish meets his lady love Ananya at IIMA College and as time passes both develop a strong relationship. After graduation Krish and Ananya find respectable jobs and work for reputed firms in Delhi and Chennai respectively.
Madly in love Krish and Ananya decide to involve their parents, knowing that neither of their parents would approve of the marriage. Krish and Anaya take the biggest risk of getting both the families together so that they may develop a liking for each other. To make matters worse a small misunderstanding occurs between the two families, leading to a conflict between Krish's Punjabi clan and Ananya's Tamilian clique.
The rest of the book unveils the challenges the couple face as they resort to different ways of impressing the two families. In the meantime, their relationship almost risks a break up.
Read the book to know what happens in the final act, do the lovers meet or depart; do the parents submit to their children's request. One would recommend this book to all who prefer a light-hearted read, and of course it's a must read for all Chetan Bhagat fans.
Review by Fatima Layeek